July 6...3 days to go.
The Ratings are posted on the Transpac Website. Div VI follows:

July 7...2 days to go.
The weather forecast looks LIGHT. Too light. Forecast is variable, 10 knots or less, patchy fog, slight chance of T-Storms!
Oh well, a longer trip just means more of the adventure to enjoy. :)
The Crew is busy preparing. Today they loaded the boat almost completely in preparation for the big Transpac Kick-off party tomorrow.
July 8. Tomorrow we race!
The weather forecast hasn't changed much...still light.

Wonderful send-off party at the Hyatt really got the crew feeling the spirit of Aloha. The crew is excited and ready for a great start tomorrow!!!
July 9. The START!!!
Brown Sugar was relieved to have a beautiful steady breeze this afternoon at their 1:00 Start. They gained good position and were sailing strong as they quickly moved out of sight toward the West End of Catalina. They'll take The Island to port then head for Honolulu. They looked REALLY GOOD out there. Let's hope the wind holds up!

Here's the view from Gypsy, the Columbia 53 that took some Brown Sugar fans out to watch The Start.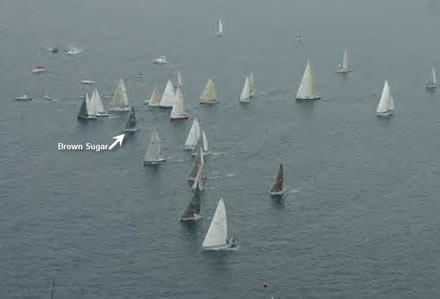 Aerial photo of 7/9 start (TP website taken by: David Lee, pilot Marty Mitchell)